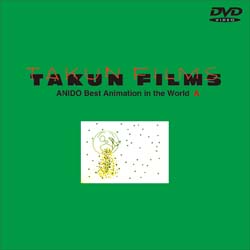 タクン・フィルムズ
An anthology of short films by Furukawa Taku, focusing on his earlier works.
DVD, h.264 10bit, 448kbps AC3, no subtitles.
Download on NyaaTorrents
Most films contain English text. Most are silent and do not require subtitles, with the following exceptions:
Utsukushii Hoshi (song with no subtitles)
Sleepy (narration with no subtitles)
Biographicaricature and Interviewoon (extras with no subtitles).
As it is an early DVD release printed on a single layer, video quality on the disc is quite bad. Some films were processed heavily as an attempt to reduce defects. New York Trip has a few hundred frames replaced or retouched individually.
Biographicaricature and Interviewoon have variable framerates (23.976fps for animated segments and 29.970fps for live action segments).
---
Ushi Atama / 牛頭 / Oxed-Man (1968)
New York Trip / ニューヨーク・トリップ (1970)
Head Spoon / ヘッド・スプーン (1972)
Nice to See You / ナイス・トゥー・シー・ユー (1975)
Utsukushii Hoshi / 美しい星 / Beautiful Planet (1974)
Odoroki Ban / 驚き盤 / Phenakitoscope (1975)
Coffee Break / コーヒー・ブレイク (1977)
Motion Lumine / モーション・ルミネ (1978)
Comix / コミックス (1979)
Speed / スピード (1980)
Sleepy / スリーピー (1980)
Portrait / ポートレート (1983)
Tori / 鳥 / The Bird (1985)
Mac the Movie / マック・ザ・ムビー (1985)
Calligraffiti / カリグラフィティー / Carigraffiti (1982)
Play Jazz / プレイ・ジャズ (1987)
Direct Animation / ダイレクト・アニメーション (1987)
Tarzan / ターザン (1990)
Extras:
Biographicaricature / バイオグラフィカリカチュア (
narrated biography
)
Interviewoon / インタビューン (
interview
)
Artoon / アートゥーン
(
slideshow of illustrations
)