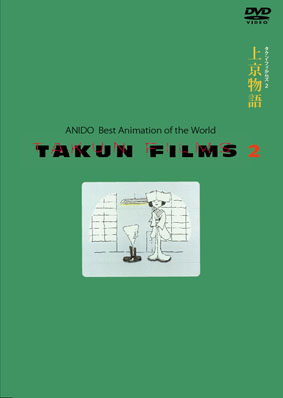 タクン・フィルムズ2
An anthology of short films by Furukawa Taku, focusing on his recent works.
DVD, h.264 10bit, 192kbps AC3, no subtitles.
Download on NyaaTorrents
Some films contain English text. Most are silent and do not require subtitles, with the following exceptions:
Nani ga Dekiru ka na, Arigatou Gomen'nasai, Yakusoku, Ishindenshin Shiyou, Kitte no Nai Okurimono (songs with embedded Japanese subtitles only).
Fuyu no Hi (Japanese text with no translation).
Interviewoon 2, Yuuga na Toko Toko Seikatsu and Yuuga na Toko Toko Seikatsu 2 (extras with no subtitles).
Works listed under
Omnibus
include only parts of collaborative animation works that were animated by Furukawa Taku. The complete omnibuses can be found elsewhere for all the films except for
Ana -The Ten Hole Animations-
and
Tokyo SOS
, which were only screened at Japanese events.
---
Joukyou Monogatari / 上京物語 / Tyo Story (1999)

Hana no Hanashi / はなのはなし / Nose Tale (2010)

Teddy / テディ (2005)

Kuripuri*Kuripura / クリプリ*クリプラ (2008)

Akai Kutsu! Onna no Ko! / 赤い靴!女の子! / Red Shoes (2009)

Mori no Kuma-san / 森のくまさん / The Bear (2009)

Nani ga Dekiru ka na / なにができるかな / What Can I Do, Now? (2009)

Arigatou Gomennasai / ありがとうごめんなさい / Thank You and Sorry (2009)

Yakusoku / やくそく / Promise (2009)

Rule / ルール / Rules (2009)

Petit Manga / プチ漫画 (2009)

Paper Film / ペーパーフィルム / Paper Films (2005)

Taku Boda (2009)

Ishindenshin Shiyou / 以心伝心しよう / From Heart to Heart (1993)

Kitte no Nai Okurimono / 切手のないおくりもの / Lovely Stamps (1996)

Omnibus: Tokyo Loop / トーキョー・ループ

: Hashimoto / はしもと (2006)

Tokyo Fantasia /

東京

ファンタジア

(2010)

Ana -The Ten Hole Animations- / 穴 -The Ten Hole Animations-

: Kitsutsuki / きつつき / Woodpecker (2009)

Tokyo SOS

: Go*ra / ゴ○ラ (2011)

Fuyu no Hi / 冬の日 / Winter Days

(2003)

Extra:

Bara Bara Film / バラバラフィルム (2011)

Interviewoon 2 / インタビューン2 (

interview

)

Yuuga na Toko Toko Seikatsu / 優雅なトコトコ生活 (

documentary

)

Yuuga na Toko Toko Seikatsu 2 / 優雅なトコトコ生活2 (

documentary

)